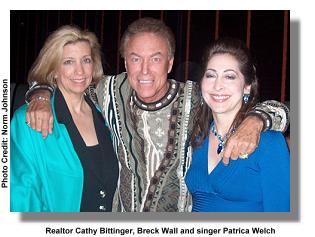 Policiticians, entertainers, friends and cast-mates honored Las Vegas entertainment icon Breck Wall on Sunday, Feb. 20, 2011 at the South Point Hotel in Vegas. His friends and fellow workers remember him as a very funny guy and a sweet man. For decades, Breck Wall was considered entertainment icon in the Las Vegas scene. The mayor of Las Vegas, Oscar Goodman, and his wife attended the event on Sunday. Apparently the mayor's friendship with Mayor Goodman dates back to the said that he and his wife were friends with Breck in the 60's was one of his clients. In the 1960's, the mayor was an attorney, and he mentioned that Wall was one of his clients. Over the years, they became best friends.
For those who don't know him Breck Wall, He produced and starred in the ever-popular show called Bottom's Up. The show ran for decades on the Las Vegas strip. As it turns out, Bottom's Up was one of the longest running shows in Sin City.
Although he passed away in November after a long bout with Alzheimer's disease, his friends and fans call him a Las Vegas entertainment icon. Wall left a remarkable legacy and produced over 30 different shows in Vegas Nightclubs and Casinos along the strip.
Breck wall was more than just a comedian. You may have seen Breck in one of the J.F.K documentaries that appeared several times on the History Channel. More notably, Wall was a good friend of Jack Ruby, the Vegas bartender who ended up shooting and killing Lee Harvey Oswald.
Senate Majority Leader Harry Reid took time from his busy schedule in Washington pay his respect to the famous Vegas entertainer. Senator Reid mentioned that Wall never lost his love of performing, and he never lost his love for a good joke as well.
Breck Wall died Monday, February 14 at the age of 75, but people will still remember his funny personality in the years to come.